Login | Complimentary registration as a friend
Explore | Enterprise at your own pace and place
Sign up as a Qualified Client User for advisory support
A Job and Business Advisor can guide your growth endeavours.

Be recognised as a Qualified Montessorian.
Privileges and Progression
Montessorian World Education and Competency Award
Eligible for subscription to an Affiliation Plan for privileges
Customised Competency Program : Becoming Montessorian
 for
Parents- Teachers – Trainers – Educators . Becoming Montessorian ™ is structured with Learning Pathway and Development Opportunities for members to advance themselves to become a Certified Montessorian Professional and a CMEd Certified Montessorian Educator ™ .
Mode of Delivery : 

Becoming Montessorian ® is an education and membership programme of Montessorian World International. The Programme comprises a series of specially tailored skill enrichment & Montessorian development courses structured with Competency Levels (CLs) for achievement. Members are also expected to be committed to Continual Professional Development and its Vision & Mission. The Montessorian and Professional Development program is designed with tertiary level educationalists and successful practitioners in Montessorian based education as well as academia and entrepreneurs. It offers individuals and organisations in contact with children to acquire a practical working knowledge of early childhood and Montessori Teaching Method. The extended Montessorian World Education emphasizes on the total development of a person. Montessorian World Education achieves this via its spirited and systematic learning approach; and of practical application. Under Montessorian World Education Learning Model. the delivery mode extends progressively from knowledge introduction into lifelong learning; taught self-directed learning and staged professional development, embracing both highly effective practice-based and problem-based learning processes. Our focus is on development of character, personal skills and professional competency. Montessorian World Education and Fellowship Plan provides educators, entrepreneurs and professionals with a new mind set for a business or professional practice startup. Within the platform, members can effectively garner the power of synergy and find the strength of cooperation. Its Fellowship program includes the exercises of practical business skills, best practices and real life project implementation. The focus is on the cooperative development and delivery of quality services and products under the global brand name of Montessorian World. All are welcome to be part of this Montessorian and Professional Development Program. The Level of Entry is based on prior experience and other academic achievement attained from other recognized learning institutions where the applicant resides and works. It is a Program for you to become a Qualified Member Montessorian. Members can be recognized as a CMP, Certified Montessorian Professional and advance themselves at their own pace under the CMEd Award Programme and become a CMEd, Certified Montessorian Educator®, a respected partner in Montessorian World Education.
Competency Program Open Education and Development Plan
Montessorian Competency Development Plan provides four levels of participation.
Competency Level (1)  : International Montessorian Certificate (IMC) or an equivalent course title by an approved learning institution. – for parents and teaching assistants; teachers pursuing a career working with young children and wishing to upgrade themselves by acquiring a qualification and technical knowledge, and to be able to work under supervision in a Montessorian Environment as junior teachers.
Competency Level (2) : International Montessorian Diploma (IMD) or an equivalent course title by an approved learning institution. – for parents as teachers and junior childcare / school teachers to develop a higher level of technical competency and to be able to work independently and effectively at a more advance curriculum level as senior teachers.
Competency Level (3) : Professional Membership Diploma or an equivalent course title by an approved learning institution. – for senior teachers and trainers to develop themselves to an advanced level of technical competency and an added mind-set skill capable to be a supervisor or trainer. On successful completion of CL (3) and training practicum, you are a qualified as teacher /trainer within Montessorian World.  You are eligible to subscribe for a new credential as a Certified Montessorian Professional.
Award : On successful completion, members can submit for an appropriate from Parallel Education Assessment and get a MWI Credential and Competency Award.
Qualified Montessorian Induction
For holders of Montessorian Competency Level -1 and higher education
as Qualified Montessorians
Montessorian Affiliate
For holders of Montessorian Competency Level – 1 with practicum
as Montessorian Affiliates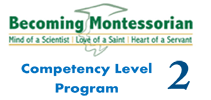 Montessorian Associate
For Graduates of Montessorian Competency Level -2 or higher education
as Montessorian Associates